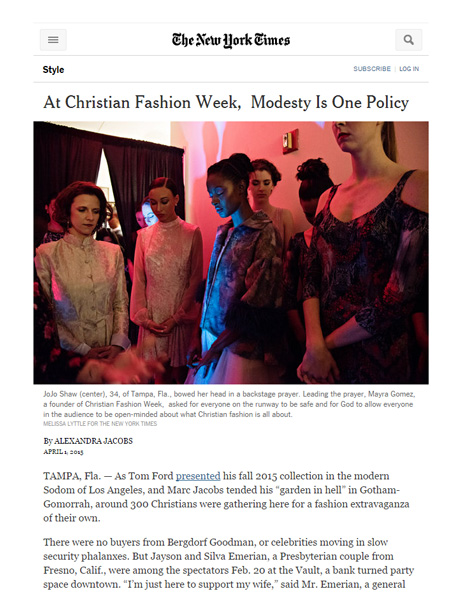 We are so excited to be featured in the New York Times today! Domestic correspondent for the Styles section of The New York Times, Alexandra Jacobs, tell the story behind the scenes at Christian Fashion Week 2015. The article discusses the people behind the show as well as the philosophy and culture of our mission. Jacobs also discusses the strange struggle we have with the contemporary modesty teachings and how Christian Fashion Week is looking beyond the shallow and into things closer to the heart of God.
All around, we absolutely loved the article. Featured are supporters and participants:
JoJo Shaw
Silva Emerian
Jean Huni
Constance Franklin
Viji Reddy
Edwich Desroches
Olivia Pollard
Zoe Thomas
Neva Durham
Aleksandra Salo
Kim Albritton
Brittany Baldwin
Thank you to everyone who interviewed and gave Alexandra the information she needed for her article. Special thanks to the New York Times and Alexandra herself for the support and exposure. We truly appreciate it and are humbled that you found us newsworthy.